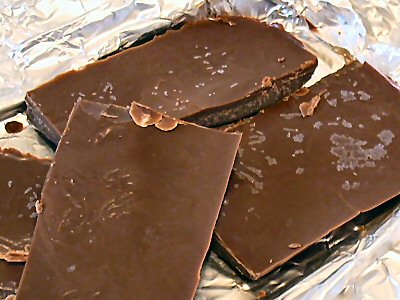 Before you rush out and grab the ingredients for this recipe, thinking you will be eating these delectable treats every night or every time you have that sweet tooth, beware:
This recipe - although a better alternative to purchased chocolate bars or cookies - contains nearly 1250 calories! Moderation is key with these.
3-4 Tbsp coconut oil
1/4 cup organic cocoa
1/2 cups ground nuts (macadamia, almonds, hazelnuts)
3/4 cups dried unsweetened shredded coconut (I like to toast in oven first)
1 Tbsp honey (optional - I use dates as well)
In a microwave, melt coconut oil.
Add cocoa, nuts and shredded coconuts and mix well.
Form into a square by dumping into a small baking sheet and spread to about a 1/4" thickness.
Refrigerate or freeze until hard.
Break off into desired pieces.

(You're welcome)